Sapporo Jozankei Onsen is located in a national park.
This event transforms the nature trails of this hot-spring resort into a mystical world, where light installations and projection mapping create a unique glow that differs from the city lights.
This beautiful light performance is produced by the up-and-coming creative group NAKED.
Enjoy an ethereal light show complemented by the scent of the trees, the murmur of the river and the chatter of insects.
Lights on

June to August19:00-21:00
September to October18:00-21:00

Admission

This is a premium event for guests at accommodation facilities only.

Be sure to bring the admission ticket you receive from your accommodation.

Venue

Futami Park to Futami Tsuribashi Suspension Bridge

Access

A shuttle bus will run between the hot-spring resort and the venue (about every 30 minutes) for a limited time.


Scheduled to run every Friday, Saturday and national holiday from mid-July to the end of the event.

Free Shuttle Bus Route

Shuttle Bus Service
Story MapWATER LIGHT VALLEY
This story invites you to a mysterious forest where the guardian deities of water and forests, known as kappa, appear in the national park at night.
Keep your eyes and ears peeled.
Look! There they are!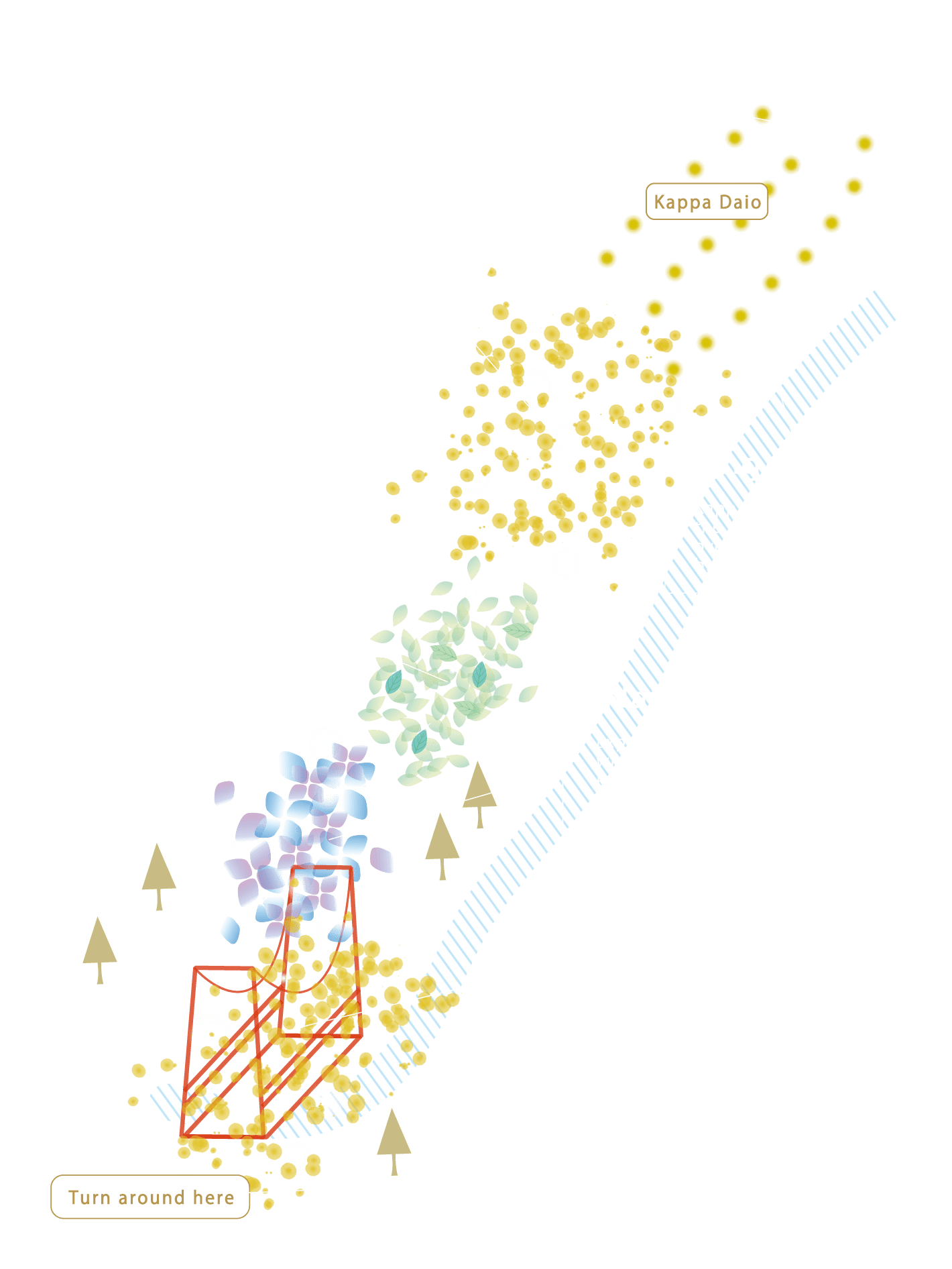 Photo contest
Upload your photos to Instagram with the hashtag #myjozankei2023!
The best submissions will be selected and the winners will receive great prizes, including a wearable camera, accommodation vouchers for two, a buffet lunch, and more!
So be sure to post your wonderful memories and photos from Jozankei!
▼Details below▼

SNSJozankei Tourist Association Official Website
Twitter
Instagram
FAQ
Will the event be canceled if there's bad weather?

Yes. It may be canceled in the event of a flood warning or severe weather warning.

Is there parking?

Free parking is available next to Hotel Milione (approximately 50 spaces). From there it's a 7-minute walk to the venue.

Are there toilets?

There are public toilets at the entrance of the venue.

Is there a smoking area?

No. Smoking isn't permitted in the venue.

Are there trash cans?

No. The event is held in a national park. Please take your trash with you.

Can I use a tripod?

Yes, you can, but please be considerate of other people as the event takes place on a narrow trail.

Can I bring my pet?

Only pets that can be carried are allowed into the venue and must be carried at all times because the narrow trails with electrical wiring are dangerous.

Is the venue wheelchair accessible?

Unfortunately, it's not wheelchair accessible because the venue has uneven ground and stairs.

Is the venue stroller friendly?

Unfortunately, the venue isn't stroller friendly because it has uneven ground and stairs. You can leave your stroller with the staff at the venue entrance.

The details mentioned that the event is for guests at accommodation facilities only. Does that include guests who use the hot springs for a day trip?

Unfortunately, no. This event is only for people who are staying overnight.

Does "accommodation facilities" include accommodation other than hotels, such as recreational facilities, condominiums and campgrounds?

All facilities that are members of the Jozankei Tourist Association (all facilities that are listed on the Jozankei Tourist Association website) are eligible. Please check our website for a list of eligible facilities. You will receive an admission ticket to the event at your accommodation.

How long is the course (time and distance)?

It takes about 40 minutes to walk the full course, which is roughly a 460 m round trip with seven illumination spots. Please be aware that there are stairs and uneven ground—please watch your step and don't run.

Is there a shuttle bus to the venue?

A shuttle bus will run through the hot-spring resort every Friday, Saturday and national holiday from late July until the last day of the event. See our website for details.

Are there any restaurants near the venue?

Restaurants serving dishes such as Chinese dumplings (shumai) and ramen, souvenir stores, bars and Japanese snack bars are all within a three-minute walk from the venue, so they are worth checking out before or after attending the event.

Can I enter the venue outside of the event hours?

The venue is open to the public as a normal walking path when the light show isn't running. For safety reasons, entry to the pathway is prohibited from nighttime to early morning after the light show has ended.
*The event may be suspended without notice due to bad weather or equipment adjustments.
*There are no special parking lots for this event.
*Photos are for illustrative purposes only.
Organized by Jozankei Tourist Association
Organized in cooperation with Sapporo City, Jozankei Onsen Ryokan Association
Supported by Sapporo Scenic Byway (Moiwasanroku-Jozankei Route)
Produced by NAKED, Inc.
Contact us: 011 598 2012 (Jozankei Tourist Association)