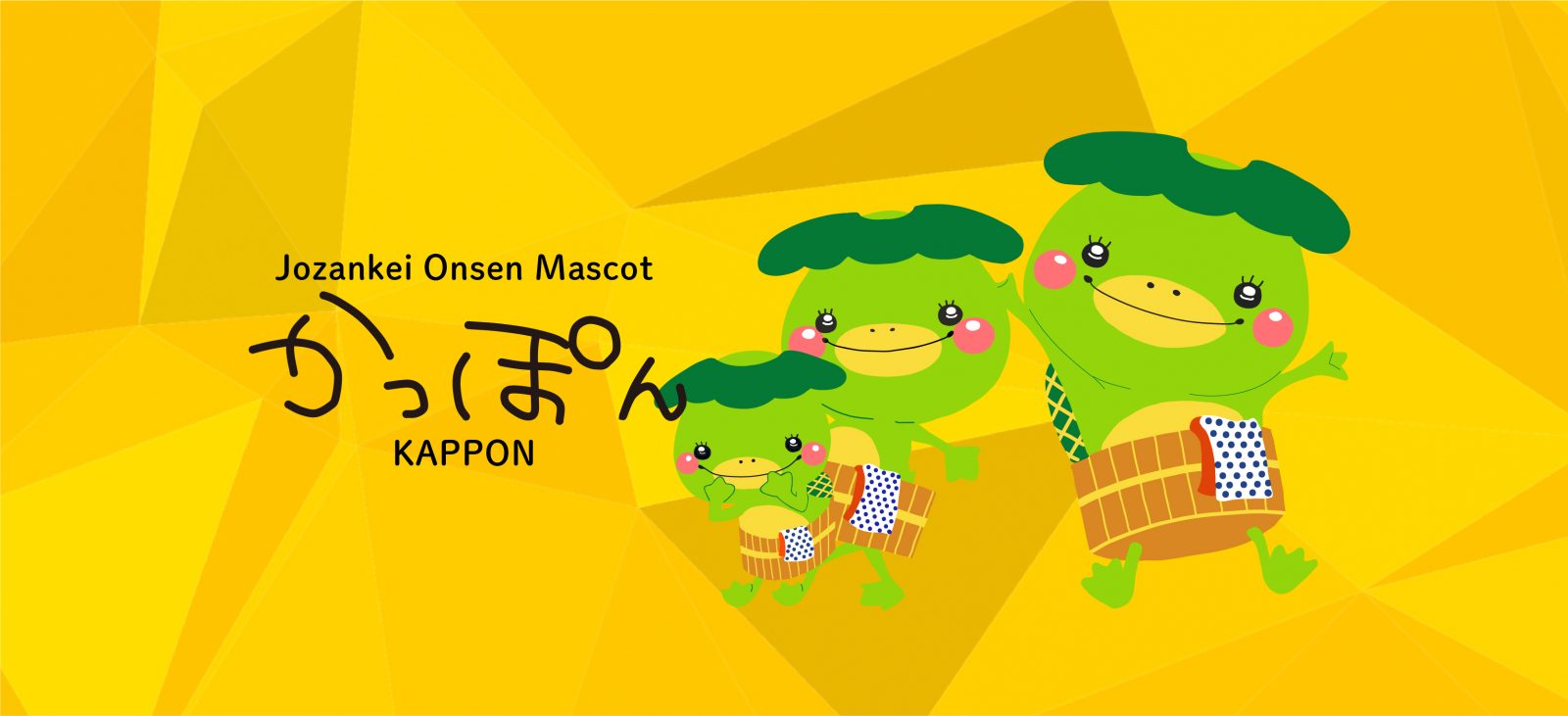 Meaning behind the name "Kappon"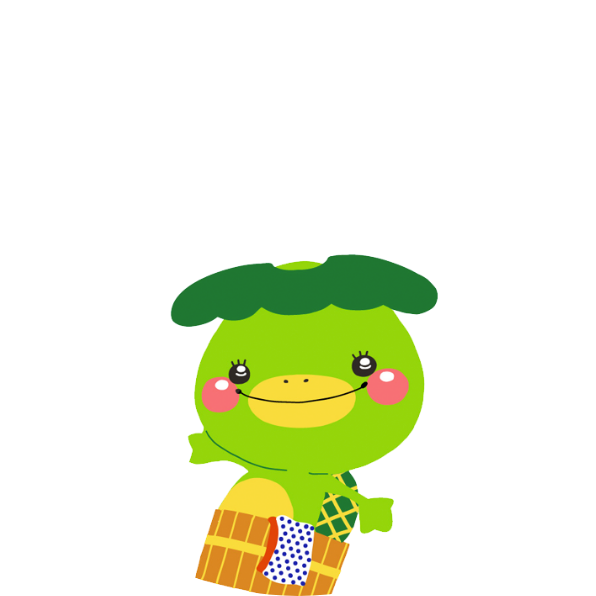 His full name is "Jozankei Kappa Kokichibei". One day, he was playing with his friends on the banks of the Toyohira River with a bucket that had floated downstream, and shouting out "kappon!" he squeezed himself into the bucket and couldn't get back out. From that day, everyone called him 'Kappon'! Kappon loves hot springs and always brings his own towel and bucket with him, because he thinks it's convenient to bring them to the hot springs himself.
Meaning behind the name "Kappon"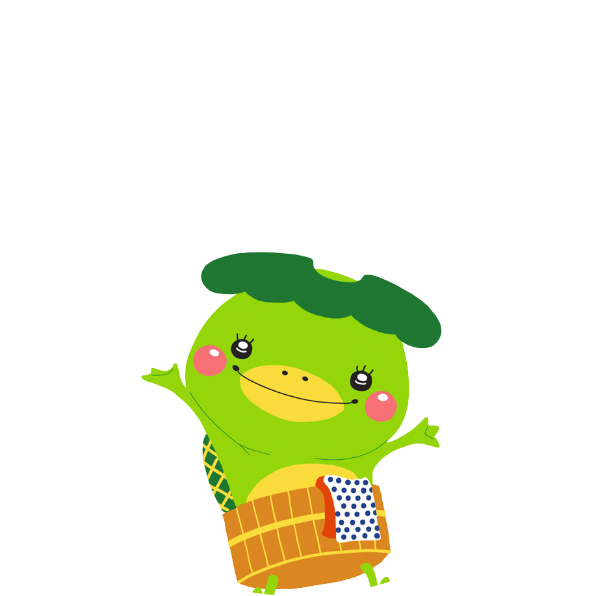 I live in the Kappa Pool in Jozankei, and I was granted special citizenship by the mayor of Sapporo Minami District in 2012. I was given the role of Jozankei Hot Springs mascot by the Jozankei Tourism Association, and crossed the Tsugaru Strait for the first time to visit Tokyo. I'm doing my best with my friends and the King Kappa to encourage lots of people to come and enjoy Jozankei Hot Springs.
INTRODUCING THE OFFICIAL KAPPON GOODS!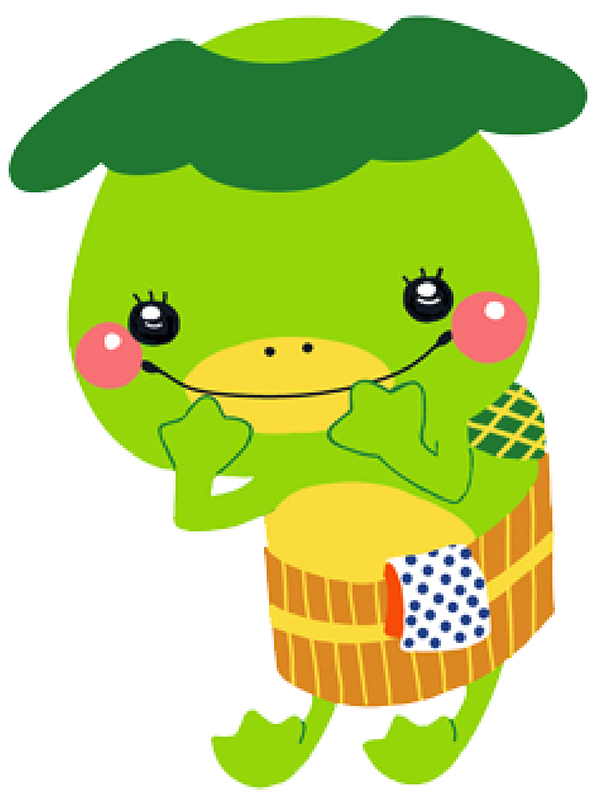 'Kappon', the Jozankei mascot since Summer 2012 created the Official Kappon Goods in Winter 2012 after receiving many requests. First came the Kappon clear file range with beautiful scenes of Kappon enjoying each of the four seasons of Jozankei. We released more than ten new varieties of Official Kappon Goods, including the popular Kappon towel products. In 2013, to celebrate the one-year anniversary of the Official Kappon Goods, we created and released the most highly requested item for sale, the Kappon Soft Toy. We look forward to receiving more requests from you! Official Kappon Goods are regional products, similar to the popular Jozankei Onion Soup, and can be found for sale in various hotels and ryokan in Jozankei and Koganeyu, the Jozankei Specialty Goods Store, and the Jozankei Tourist Information Center. Along with the Official Goods, there are also other products such as Kappon Senbei and Kappon cotton swabs available at these stores. If you come to Jozankei, don't forget to take a look at the range of cute Kappon goods available!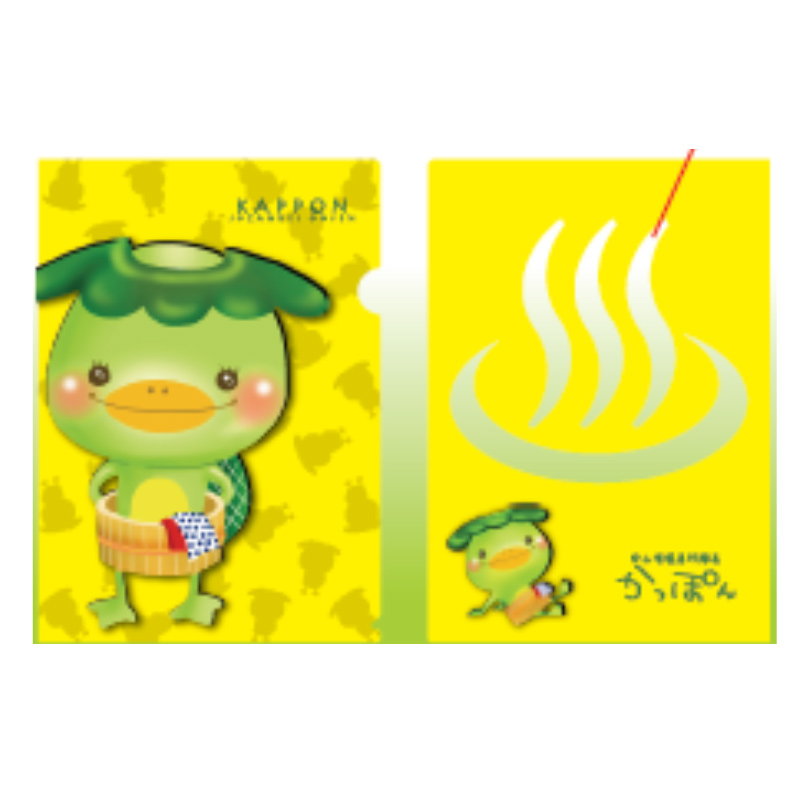 Clear File (Hot Springs)
¥300 (Tax excluded)
Kappon and yellow go well together! The front side shows a silhouetted Kappon, and the reverse side is decorated with a transparent hot springs logo so you can see the contents inside the file. Underneath is Kappon sitting peacefully after getting out of the hot springs.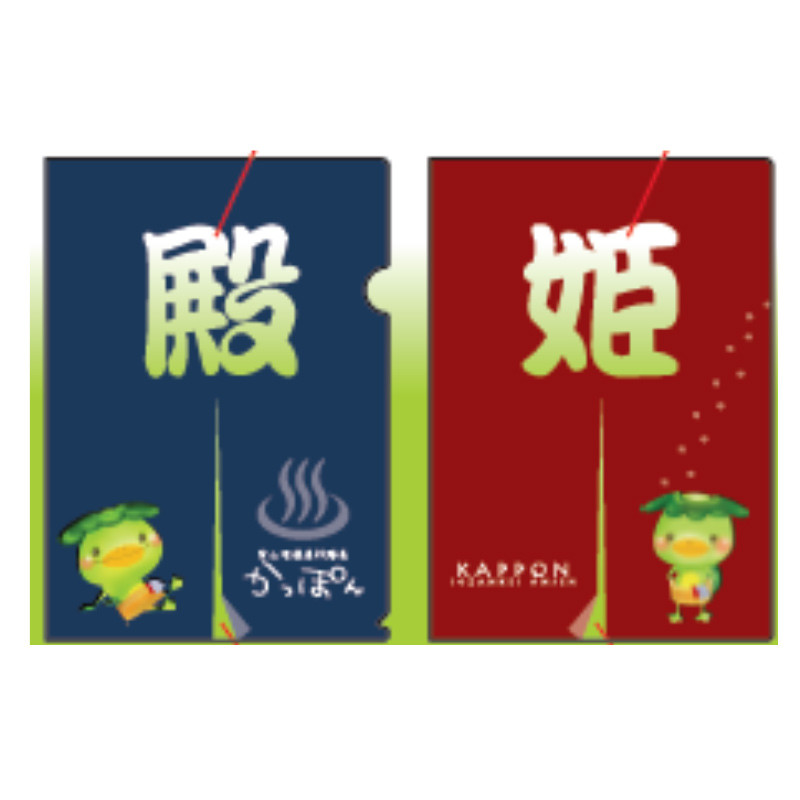 Clear File (Half-Curtain)
¥300(Tax excluded)
This clear file is designed in the style of the half-curtains that mark the entrance to the hot springs in many of the Jozankei Onsen resort hotels. The curtains are decorated with the kanji '姫' and '殿' meaning "ladies" and "gentlemen", and there is a transparent gap between the curtains.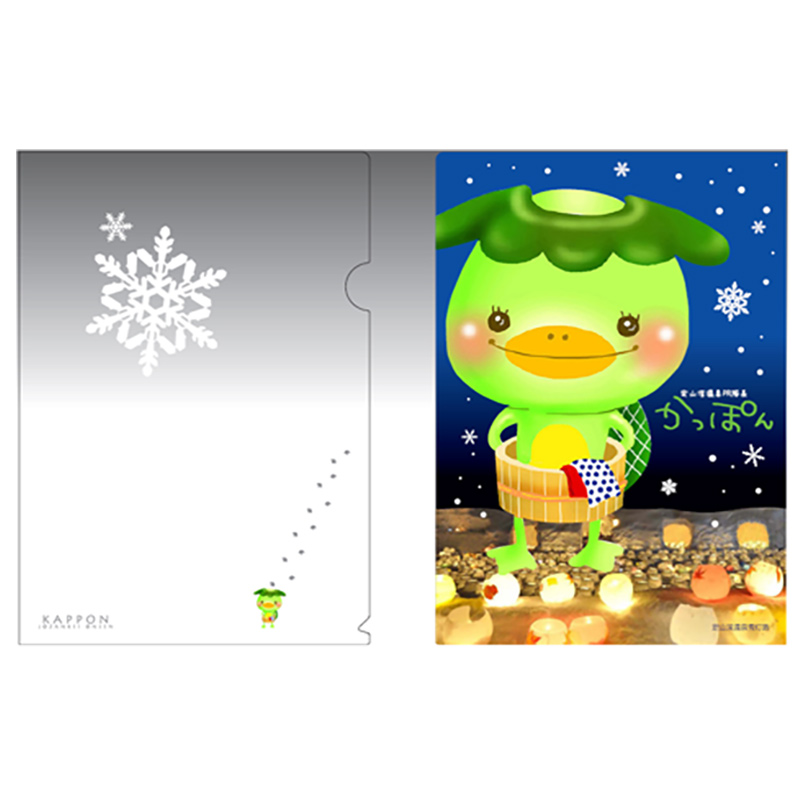 Clear File (Snowy Lights)
¥300 (Tax excluded)
This snowy lights scene is the most popular of the official Kappon merchandise. The front side shows Kappon walking on the snow surrounded by snowflakes, and the reverse shows Kappon leaving footprints in the snow, a typical Hokkaido image.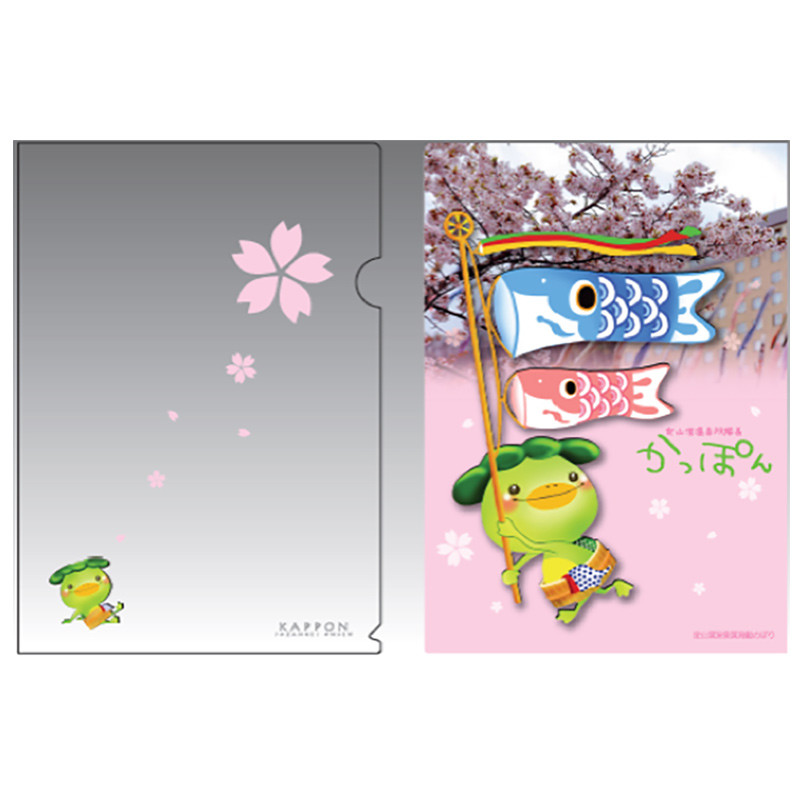 Clear File (Carp Streamers)
¥300(Tax excluded)
This clear file is decorated with Kappon holding carp streamers for the Japanese spring tradition of putting up Koinobori, or mountain carp streamers. The reverse side is clear, with an image of a cute Kappon gazing at sakura petals.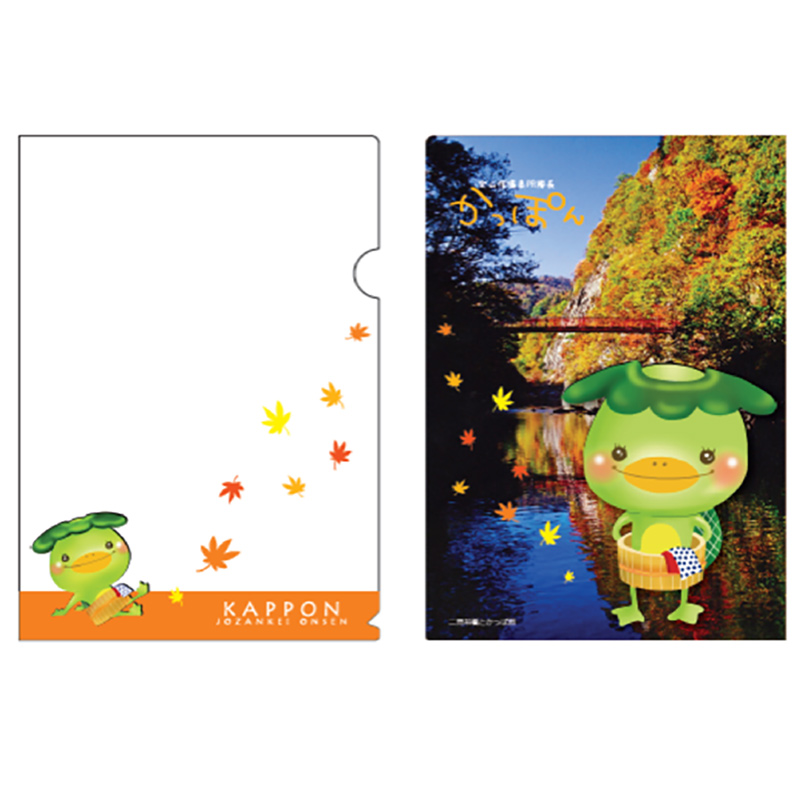 Clear File (Autumn Leaves by Futamitsuri Bridge)
¥300(Tax excluded)
This file shows Kappon looking out over Futamitsuri Bridge, a sightseeing spot in Jozankei. The autumn leaves reflect beautifully in the Tokuhira River and the Kappa Pool where the Kappa live. The transparent reverse side is decorated with a picture of Kappon looking at the autumn leaves.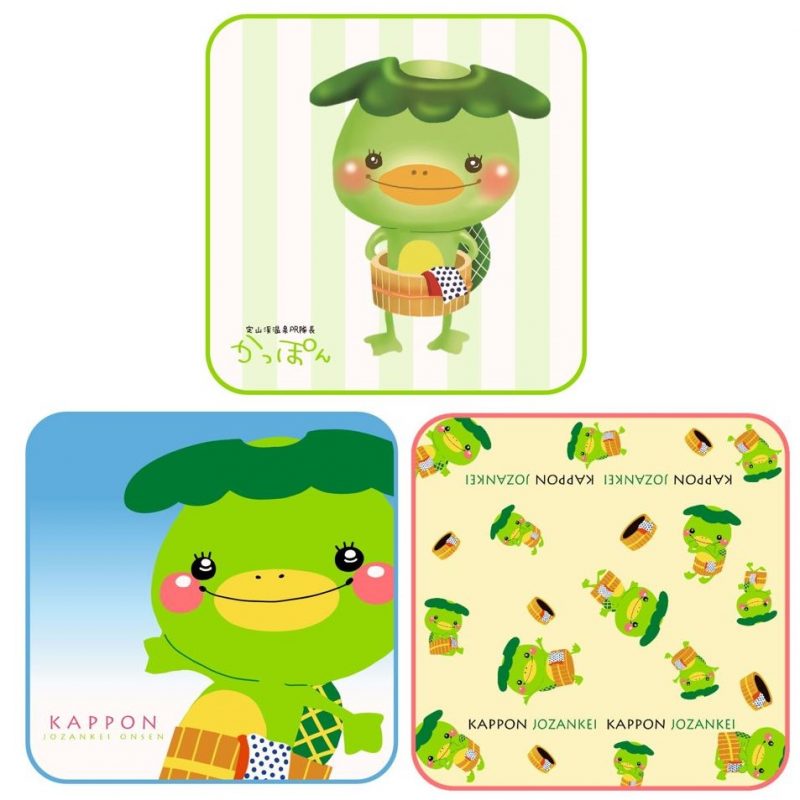 Towel Handkerchief
¥450(Tax excluded)
Keep this handkerchief in your bag or pocket so you can always have Kappon with you!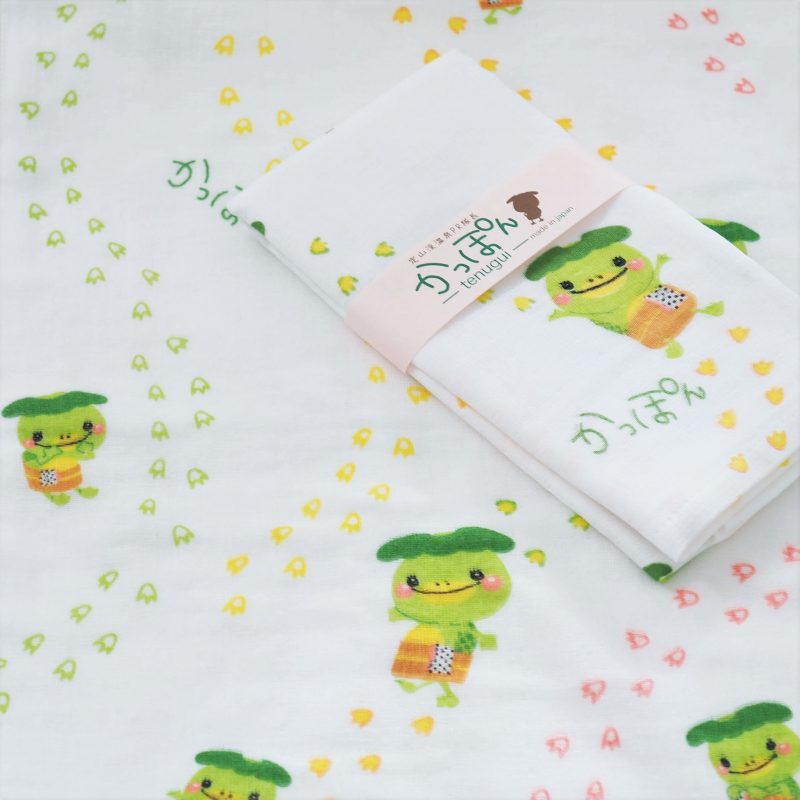 Traditional Japanese Hand Cloth
¥600(Tax excluded)
A cute hand cloth decorated with Kappon and his footprints.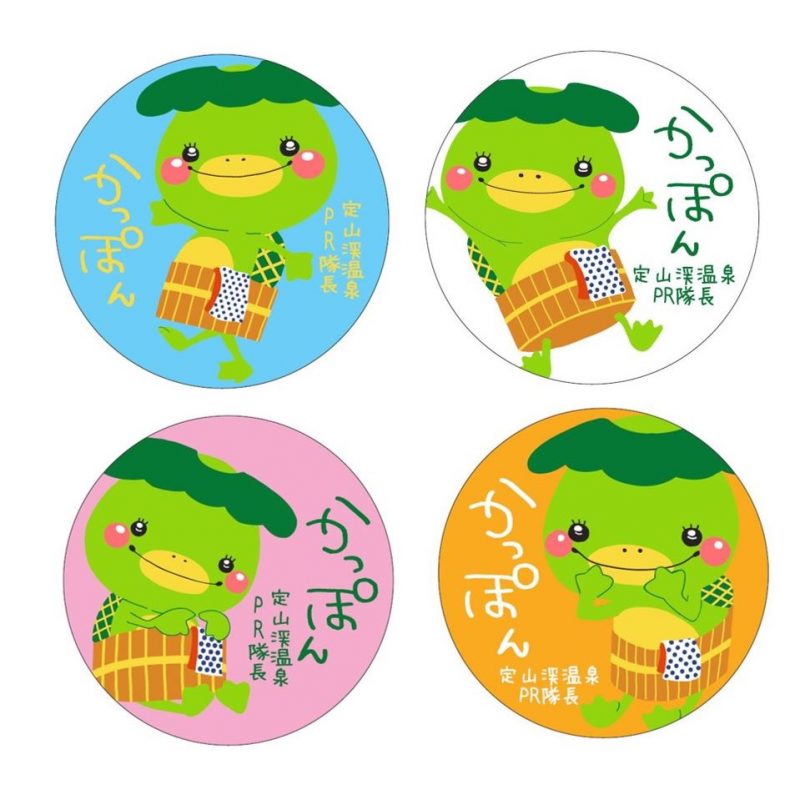 Metal Badge
¥140/one (Tax excluded)
A colourful set of Kappon badges. Fitted with a safety pin. Please take care when pinning this badge.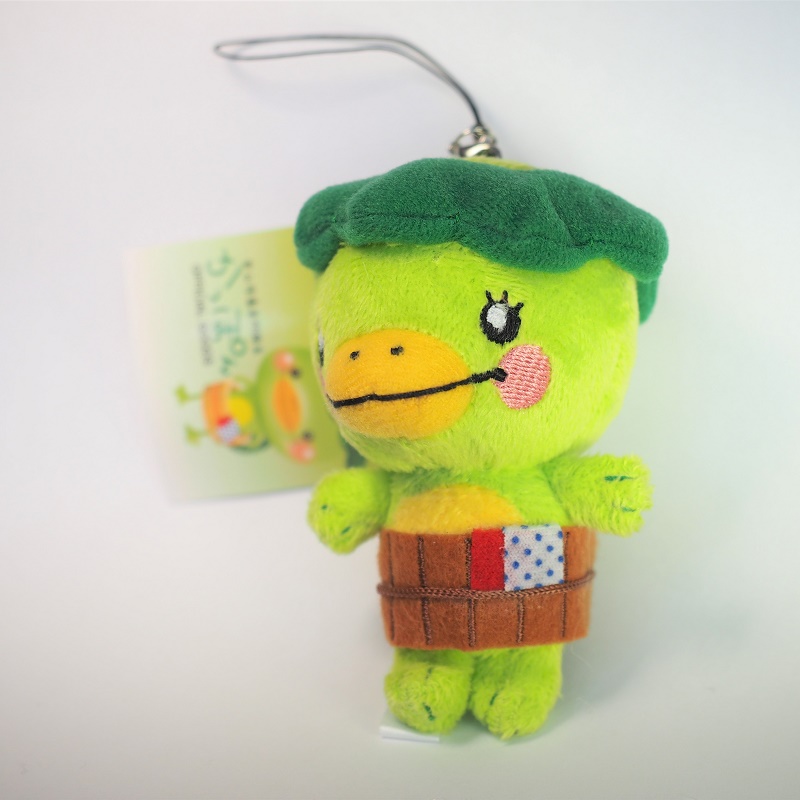 Kappon Doll Clip
¥650 (Tax excluded)
A cute Kappon soft toy with adorable big eyes and pink cheeks. You can hang it from your bag to have Kappon with you always.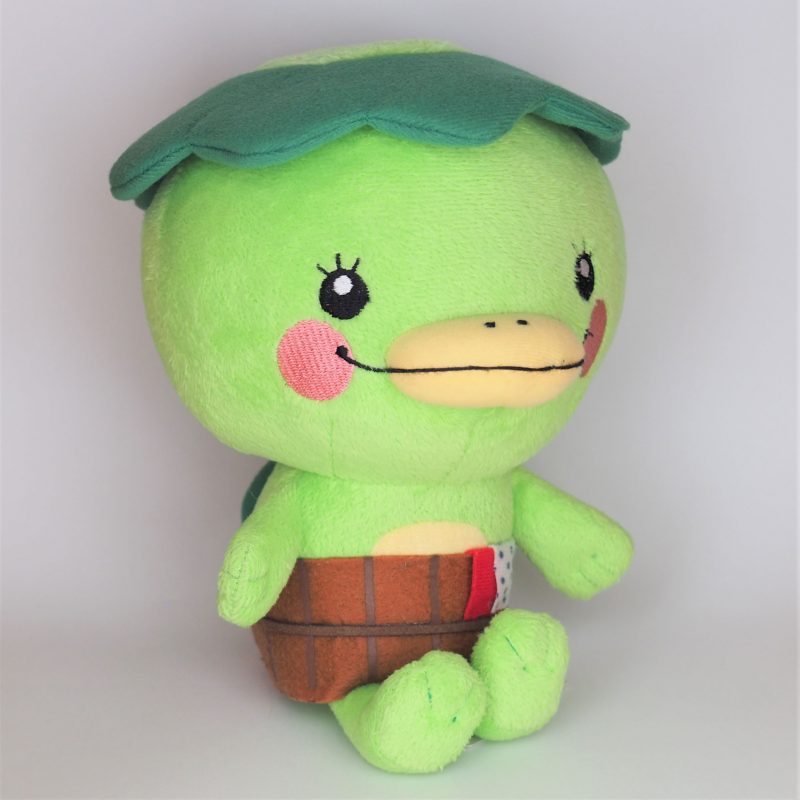 Kappon Soft Toy
(20cm) ¥2200・(30cm) ¥4300 (Tax excluded)
This Kappon toy has adorable big eyelashes and pink cheeks, with his characteristic bucket and towel. This Kappon doll is soft to the touch, and is a soothing toy.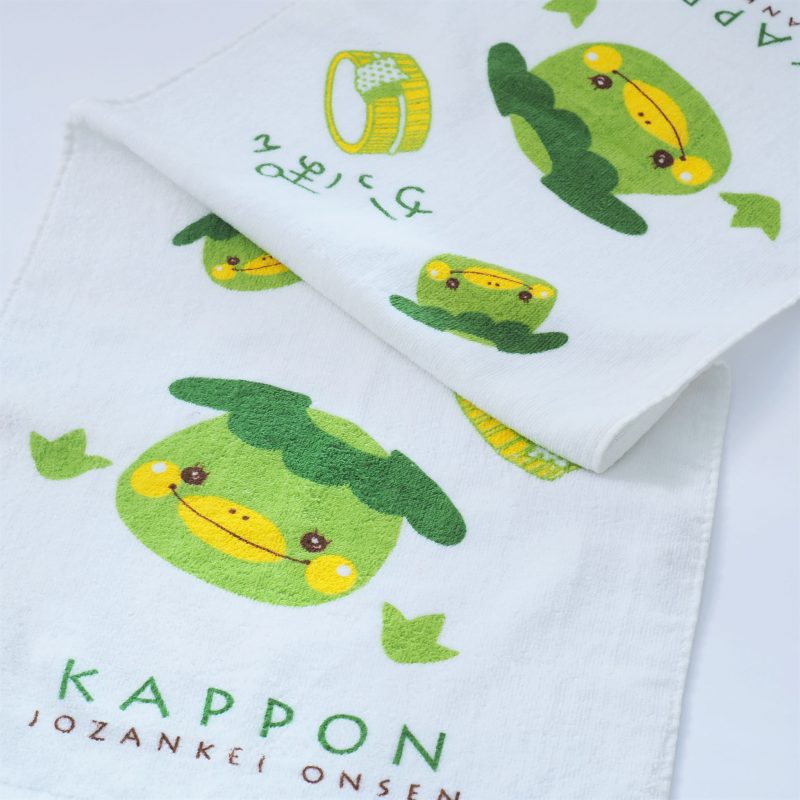 Face Towel
¥700(Tax excluded)
When you think of Kappon, you think of onsen and of course, towels! Bring Kappon with you to the hot springs with this face towel!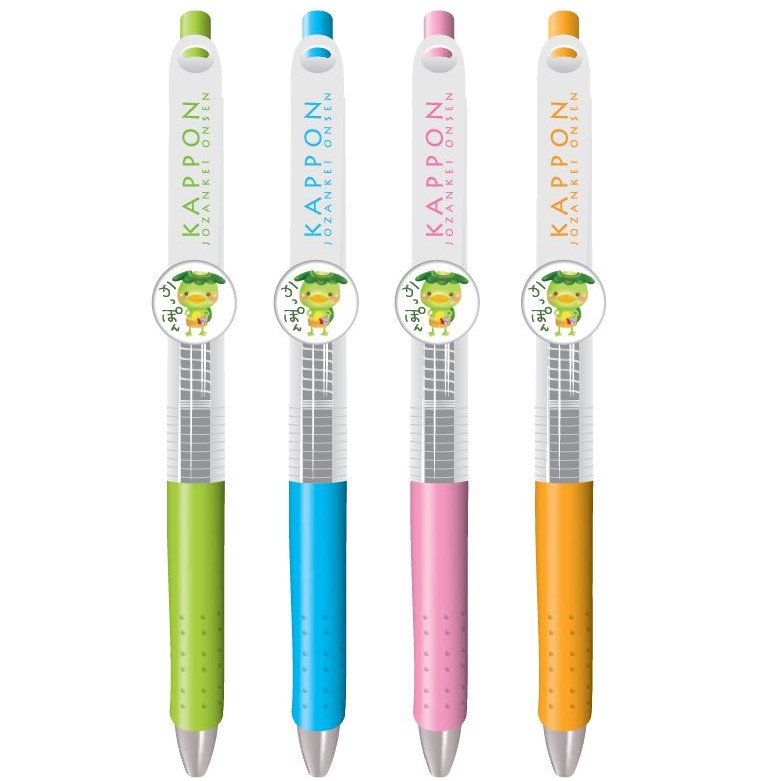 PILOT Ball Pen & PILOT Mechanical Pencil
¥300/one(Tax excluded)
A cute picture of Kappon is on the pen. You can choose from your favorite of 4 colors. (Black ink. Made by PILOT)
販売場所
定山渓観光案内所、定山渓物産館、各ホテル売店
など